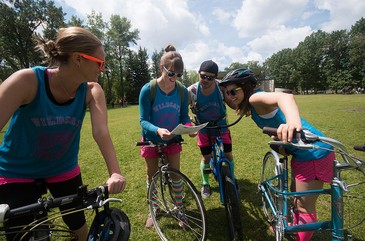 Do you enjoy needlessly competing with your friends over activities involving beer? Do you enjoy bikes and bike culture and currently own (or would like to own) a super-rad pair of wheels?

For the third year in a row, Sled Island is happy to present the Green Island Bike Scavenger Hunt on Saturday, June 13. The event, which is sponsored by Big Rock, aims to promote bike culture in the city, support green initiatives and will help get you familiar with a bunch of awesome Sled Island venues, so you can get prepped for the upcoming festival.

Create a team of two to four people and complete a list of challenges all over the city for a chance to win a ton of great prizes, including four decked-out Electra Bicycle Company bikes courtesy of Big Rock. If you don't have a team of four we will do our best to make one for you, so please register as an individual! Please email us if you need help putting together a team.

We meet at the Enmax Stage in Prince's Island Park at 12:00pm and wrap at about 5:00pm. Come along for the after party at Local 510! The event is rain or shine, so dress accordingly and make sure you bring your bike and bike gear. Seriously, it's a bike scavenger hunt, so you need a bike!

Sign up your team here.
RSVP on Facebook.
Permalink