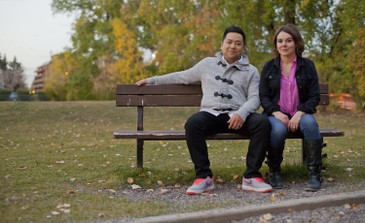 Sled Island is excited to announce the local talent that will be on stage this June in support of 2015 comedy headliners Bridget Everett, Mark Little, Chris Locke and Will Weldon!
Derek Adams, Amy Bugg, Brandon Craig, Jeff D'Silva and Gina Freeman will be joining the lineup, showing the incredible depth of Calgary's comedy community. Three cheers and a few laughs for them!
Plus, don't miss out on Jupiter Comedy featuring Noor Kidwai and Eric Steel on Wednesday, June 24 at the Oak Tree Tavern (Level 2, 124 10 St. NW) and freewheeling improv extravaganza Past Your Bedtime featuring Renee Amber and Andrew Phung (pictured) on Friday, June 26 at the Loose Moose Theatre (1235 26 Ave. SE) for more of what makes Calgary comedy world-class!
Full schedule and tickets will be available soon, but the best way to experience all that our comedy lineup has to offer (plus 250+ bands, film, visual art and more) is to buy a festival pass!
Keep your eyes on SledIsland.com for our visual arts and special events announcements in the coming weeks.
Permalink