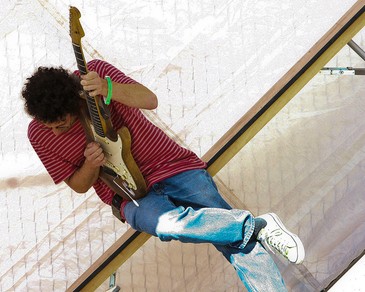 Can't make it to the full festival in June? We're adding a few more individual tickets for select Sled Island shows. All newly added shows go on sale at SledIsland.com on Friday, May 8 at 10:00am. Read on to see what's new, or click here to see our full list of tickets. Some tickets will also be available at Sloth Records (736 17th Ave. SW), Lukes Drug Mart (112 4th Street NE) and Purr Kensington (1220 Kensington Road NW). Updates will be made before the on sale date.
In addition to these new shows, we'll be dropping off physical tickets for the previously announced Daniel Lanois, Jaga Jazzist and Swervedriver shows at Sloth Records and Lukes Drug Mart on May 8.
Remember that a festival pass gets you access to all Sled Island events (250+ bands, film, visual art and comedy), and about 70% of venue capacities are reserved for passholders.
WEDNESDAY, JUNE 24
De La Soul w/ guests @ Flames Central - $40 advance/$45 at the door
On sale Friday, May 8 at 10:00am
Colleen Green w/ The Courtneys and guests @ Broken City - $15 advance/$20 at the door
On sale Friday, May 8 at 10:00am
THURSDAY, JUNE 25
Mdou Moctar w/ guests @ The Ironwood - $15
On sale Friday, May 8 at 10:00am
FRIDAY, JUNE 26
Tory Lanez w/ guests @ HiFi Club - $20
On sale Friday, May 8 at 10:00am
SATURDAY, JUNE 27
Yo La Tengo w/ guests @ Flames Central - $25 advance/$30 at the door
On sale Friday, May 8 at 10:00am
Permalink