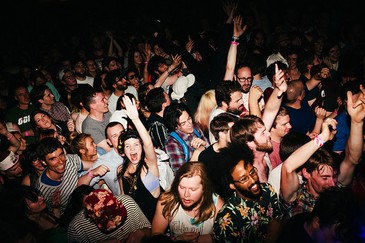 Can't make it to the full festival in June? You're in luck: a limited quantity of individual tickets for select shows will go on sale on Friday, April 17 at 10:00am at SledIsland.com!
Tickets will also be available at Sloth Records (736 17th Ave. SW), Lukes Drug Mart (112 4th Street NE) and Purr Kensington (1220 Kensington Road NW)—check the list below for full ticket information. With Record Store Day happening on Saturday, April 18, we suggest hitting them up on Friday to get a jump on things (or make it part of your Record Store Day plan)!
Remember that a festival pass gets you access to all Sled Island events (250+ bands, film, visual art and comedy), and about 70% of venue capacities are reserved for passholders. We'll be announcing over 150 more artists, including two more headliners, in the weeks to come!
WEDNESDAY, JUNE 24
The Ex w/ guests @ #1 Legion - $30
Available at SledIsland.com, Sled Island Office, Sloth Records, Lukes Drug Mart
Son Lux & Hundred Waters w/ guests @ Central United Church - $20 advance/$22 at the door
Available at SledIsland.com, Sled Island Office, Sloth Records, Lukes Drug Mart, Purr Kensington
Ben Frost w/ Loscil and guests @ Commonwealth - $20 advance/$25 at the door
Available at SledIsland.com, Sled Island Office, Sloth Records, Lukes Drug Mart
Pentagram w/ guests @ Dickens - $25 advance/$27 at the door
Available at SledIsland.com, Sloth Records, Lukes Drug Mart
Swervedriver w/ guests @ Republik - $25 advance/$30 at the door
Available at SledIsland.com
THURSDAY, JUNE 25
Lightning Bolt w/ guests @ #1 Legion - $30
Available at SledIsland.com, Sled Island Office, Sloth Records, Lukes Drug Mart
Ex Hex w/ guests @ Broken City - $15 advance/$20 at the door
Available at SledIsland.com, Sloth Records, Lukes Drug Mart
Godspeed You! Black Emperor w/ guests @ Central United Church - $35
SOLD OUT
Black Milk w/ guests @ Commonwealth - $20 advance/$25 at the door
Available at SledIsland.com, Sled Island Office, Sloth Records, Lukes Drug Mart
Fu Manchu w/ guests @ Dickens - $25 advance/$27 at the door
Available at SledIsland.com, Sloth Records, Lukes Drug Mart
Guantanamo Baywatch & Obnox w/ guests @ Palomino - $15 advance/$20 at the door
Available at SledIsland.com, Sloth Records
Daniel Lanois w/ Lydia Ainsworth & guests @ Republik - $35 advance/$40 at the door
Available at SledIsland.com
FRIDAY, JUNE 26
King Tuff w/ guests @ #1 Legion - $30
Available at SledIsland.com, Sled Island Office, Sloth Records, Lukes Drug Mart, Purr Kensington
Lydia Ainsworth w/ guests @ Broken City - $15 advance/$20 at the door
Available at SledIsland.com, Sloth Records, Lukes Drug Mart
Godspeed You! Black Emperor w/ guests @ Central United Church - $35
SOLD OUT
Iceage w/ Low Life and guests @ Dickens - $15 advance/ $20 at the door
Available at SledIsland.com, Sloth Records, Lukes Drug Mart
The Coathangers w/ Duotang, Meat Wave & guests @ Nite Owl - $15 advance/$20 at the door
Available at SledIsland.com
Matana Roberts w/ guests @ National Music Centre - $15 advance/$20 at the door
Available at SledIsland.com, Sloth Records
SATURDAY, JUNE 27
Body/Head w/ guests @ #1 Legion - $30
Available at SledIsland.com, Sled Island Office, Sloth Records, Lukes Drug Mart
The Coathangers w/ guests @ Broken City - $15 advance/$20 at the door
Available at SledIsland.com, Sloth Records, Lukes Drug Mart
Pissed Jeans w/ guests @ Dickens - $15 advance/$20 at the door
Available at SledIsland.com, Sloth Records, Lukes Drug Mart
Television, Drive Like Jehu, Viet Cong, King Tuff, Ex Hex & Hypnotic Brass Ensemble w/ guest @ Olympic Plaza - $50 advance/$55 at the gate
Available at SledIsland.com, Sled Island Office, Sloth Records, Lukes Drug Mart, Purr Kensington
Oxbow w/ guests @ Palomino - $15 advance/$20 at the door
Available at SledIsland.com, Sloth Records, Lukes Drug Mart
Jaga Jazzist w/ guests @ Republik - $25 advance/$30 at the door
Available at SledIsland.com
Permalink