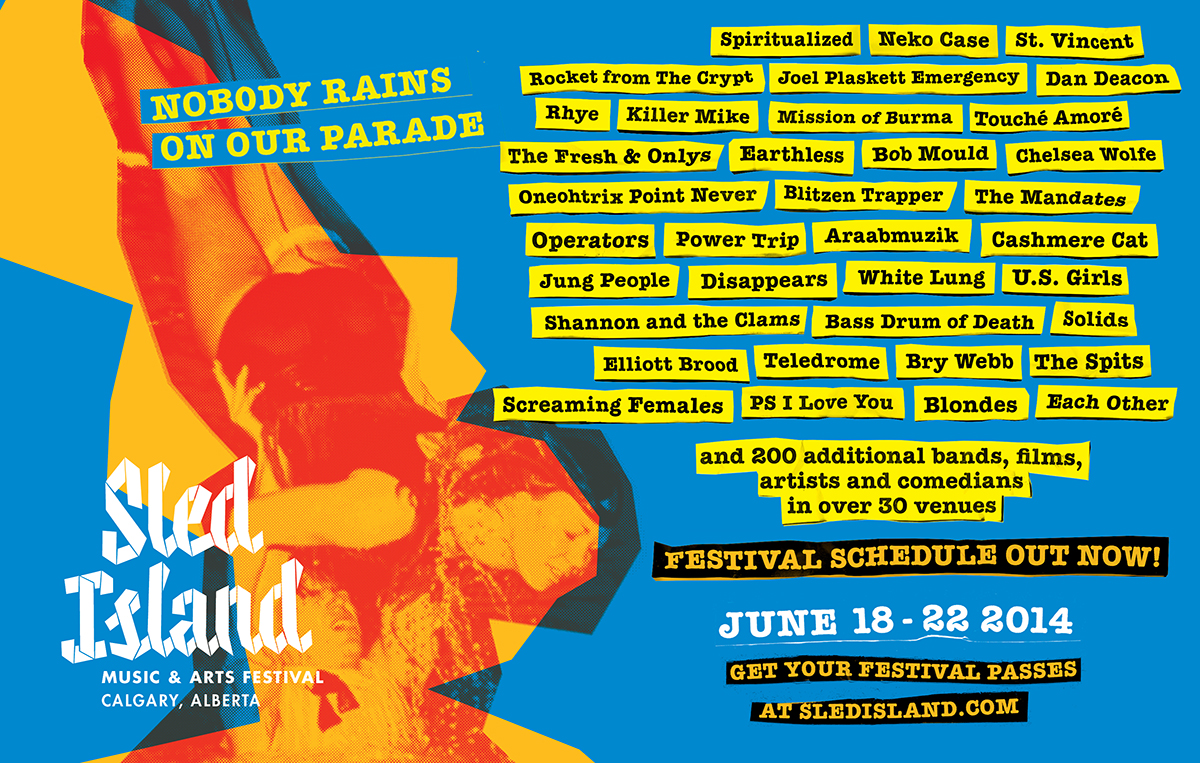 Sled Island is ready to unveil its full 2014 festival schedule, featuring over 300 genre-defying bands, films, comedians, visual artists and special events spread across 38 venues in Calgary, Alberta, happening day and night from June 18-22, 2014.
Beyond the festival's headlining performers at Sled Island's main outdoor venue, Olympic Plaza, including Neko Case, Spiritualized and Rocket From The Crypt, the festival features jaw-dropping line-ups and surprises in unique and intimate settings around every corner. From Rhye's debut Calgary performance at Central United Church to Burger Records taking over the perfectly-charming Golden Age Club to the two-floor, eight-band dance party capped off with Dan Deacon at the iconic #1 Royal Canadian Legion, there's a wide-variety of unforgettable show experiences to be had throughout Sled Island 2014.
Recent additions to the festival lineup include the secretive new Dan Boeckner (Wolf Parade, Divine Fits) industrial dance project, Operators, bratty pop-punk icons, The Spits, Montreal trap-party DJ, Tommy Kruise plus a handful of local comedians joining the already stellar line-up. Sadly, Hunx and His Punx are no longer performing at Sled Island. We're also excited to unveil the Special Events component of the festival, which includes an artist talk with Killer Mike, a look into Natasha Kmeto's live vocal processing techniques, the free National Music Centre collection tours plus much more.
Sled Island offers a number of ways to experience this staggering amount of music, art, film, comedy and special events during the festival. Armed with a Festival Discovery Pass, you'll have access to all Sled Island events, subject to capacity. The Discovery Plus Pass provides priority access to all Sled Island events, subject to capacity, plus other perks! An All Ages Pass is designed specifically for our "under 18" buddies in mind. Get your passes today!
We realize not everyone is able to commit all 5 days to the festival. As such, there's individual tickets available for select shows including Olympic Plaza, Flames Central and more. St. Vincent tickets are now sold out online. Visit the Sled Island website for more details on individual show tickets. There's also a handful of free events during the festival including the East Village Block Party on June 19th, Tubby Dog shows and more.
Details on pass pick up will be coming soon! In the mean time, follow us on Facebook, Twitter, Instagram and consider using the hashtags, #SledIsland, #NobodyRainsOnOurParade to get ready for the most-fun 5-days you'll have all year!
Permalink