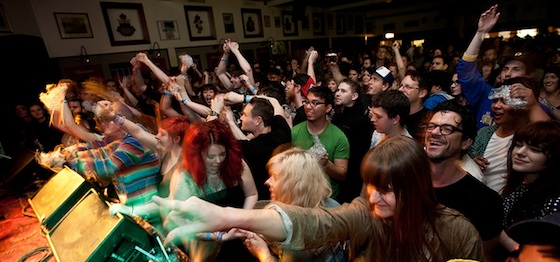 Sled Island is proud to release its full 2013 festival schedule, featuring over 280 genre-defying bands across over 35 venues in Calgary, Alberta, happening day and night from June 19-22, 2013. Beyond the festival's headlining performers at Sled Island's main outdoor venue, Olympic Plaza, including Explosions In The Sky and The Jesus And Mary Chain, the festival includes jaw-dropping line-ups and surprises in unique and intimate settings around every corner. From festival curator-selected line-ups, including John Dwyer's (Thee Oh Sees) two-floor, eight-band party at the iconic #1 Royal Canadian Legion and Tim Hecker's mind-melting five band bill at the beautiful and new-to-Sled Island venue, Vertigo Theatre, to shows curated by TSN's Jay Onrait and Dave Hodge featuring indie darlings Joel Plaskett Emergency and Divine Fits (members of Spoon, Wolf Parade) at Flames Central.

The newest additions to Sled Island's line-up include experimental-folk favourites Akron/Family, soul-shaking Vancouver-based rock & roll duo The Pack A.D. and the return of San Francisco indie-rockers The Dodos, who have a strong relationship with Calgary and its music fans through their touring work with the late Christopher Reimer of the band Women. From that same band, Matt Flegel's newest outfit, Viet Cong, make their festival debut while Calgary-heroes Ghostkeeper are sure to win over fans at Olympic Plaza.

The overwhelming amount of music to be heard from June 19-22 is easier to navigate than ever before. Thanks to the Sled Island website's feature set, including a new-to-2013 personalized schedule as well as artist recommendations and genre sorting, the staggering amount of music to uncover is just a few simple clicks away.

Of course, Sled Island is more than just music - with film screenings, art openings, comedy performances, panel discussions and more at all hours, there's something, well, many things actually, for everyone at this year's festival. Festival passes are on sale now online - a festival pass grants access to all music, art, comedy, film and workshop event at Sled Island subject to venue capacity. The Festival Discovery Pass is $199, the Festival Discovery Plus Pass is $349, the All-Ages Pass is $50 and the Film Pass is $30. More info at the Sled Island shop.
Also, for a limited time EQ3 is offering a chance to win $1000 in credit towards Canadian-made custom upholstry when you purchase a Sled Island pass! Find out more details here.
Permalink