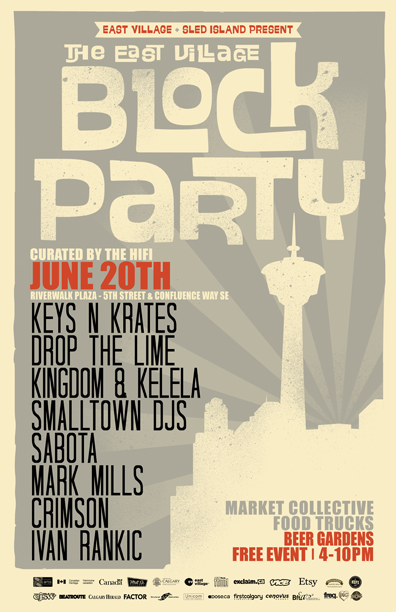 Sled Island is thrilled to be partnering with East Village for the return of the East Village Block Party, a free outdoor event curated by the HiFi Club on Thursday, June 20th at RiverWalk Plaza on 5th Street & Confluence Way SE.
Following the great success of last year's inaugural event, we're pleased to present the following acts for the 2013 edition, live remix party band Keys N Krates, New York electronic producer and Trouble & Bass founder Drop The Lime, downbeat future R&B collab act Kingdom & Kelela and local electro veterans Smalltown DJs. Also catch the chill polyrhythmic grooves of Sabota, live dark dancepop artist Mark Mills, not to be missed Crimson and the cross genres breaks of Ivan Rankic at this year's East Village Block Party.
In addition to these amazing acts we're happy to welcome back Market Collective, they will be setting up a local's crafter market on the Riverwalk and of course, everyone's favourite food trucks will be set up to deliver their tasty goods for the event from 4 - 10pm. This is a free outdoor, family-friendly event open to music fans of all-ages. There will also be an outdoor beer garden for the 18+ crowd to enjoy themselves.
Get ready to dance in the open air with all your friends this June! RSVP for Facebook event here.
Learn more about the East Village by checking out their Facebook page and visiting their website today.
Permalink