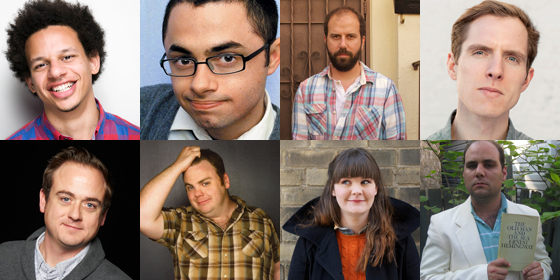 Sled Island is proud to announce the the 2013 edition of its fan favourite and hot ticket comedy program!
This year's line-up includes Eric Andre of Adult Swim's bizarro talk show, The Eric Andre Show, Parks and Recreation writer and writer-performer on Comedy Central's Kroll Show, Joe Mande, Brett Gelman of the hilarious Adult Swim cop show parody, Eagleheart and stand-up-and-comer Andy Haynes (Conan, Late Night With Jimmy Fallon, Last Comic Standing). Calgary comic done right, Pat Kelly (creator of the CBC Radio parody show This Is That) joins the line-up with his curated Canadian comedy program including Pat Thornton, best known for Comedy Network's Hotbox and for performing 24 straight hours of stand-up, Much Music's Video On Trial mainstay, Sara Hennessey and Now Magazine's "Best Comic of 2012," Chris Locke. These National and International comics will be joined by a host of Western Canada's best emerging comics this June!

More details including additional acts, ticketing info and schedule to follow over in the coming weeks!
Permalink