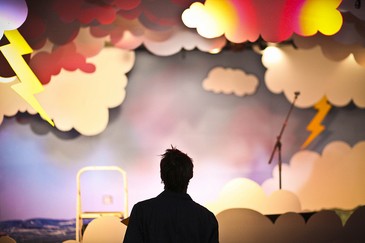 Sled Island is currently accepting art exhibition, performance, installation and design proposals for the 2013 edition of Sled Island Music and Arts Festival. This is a unique opportunity for emerging artists/designers/performers/illustrators to engage with a context that embraces the spirit and relationship between the visual arts and music in Calgary.
We're looking for art/design/curatorial proposals that will contribute site-specific, unique, intriguing, enhanced or additional environments and experiences for festival goers to encounter at the various venues of the Sled Island festival program.
Your submission package should include:
Name and contact information of Artist(s), Curator(s) and/or Designer(s)
CV/Resume(s) of Applicant(s)
250 word Proposal Summary (maximum, over 250 words will not be considered)
10-15 images or sketches or images of the proposed artwork, exhibition and/or design
Image list (artist/designer, titles, medium, sizes, description, etc)
Proposed venue (if applicable)
SUBMISSION Deadline:
Friday May 10, 2013 at 7pm (Late submissions will not be considered)
Submissions can be sent via email to: art@sledisland.com
Successful submissions from the first round of consideration and review will be notified and brought in for an informal interview regarding the process.
Permalink