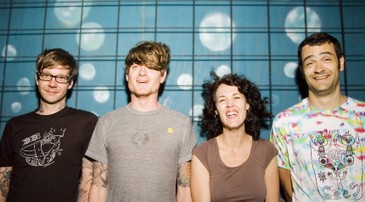 While Sled Island might only come around once a year, thanks to our hard working and passionate Calgary friends, promoters and venues, we're able to help throw some parties each month...and this month is a doozy.

On October 11th at Broken City, festival favourites And So I Watch You From Afar return with their jaw-droppingly technical and powerful instrumental math rock show. They're joined by This Town Needs Guns, Mylets and The Fallacy.

On October 12th, the party continues at Broken City with "the Ron Jeremy of indie rock," indie R&B live show killer, Har Mar Superstar, along with local self-contained dance party, Mark Mills.
Finally, on October 18th, John Dwyer, our 2013 festival curator, returns to Calgary with his oh-so-catchy genre-expanding garage pop band, Thee Oh Sees at The Republik. They're joined by one of the single greatest live bands to ever play the festival, The Blind Shake. If you haven't caught their thunderous surf-guitar propelled garage rock, you haven't truly lived.

Join us for some truly outstanding shows, won't you?
Permalink