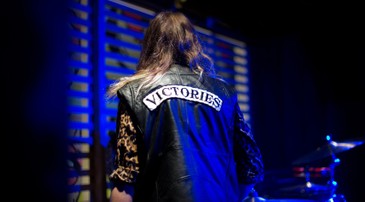 Sled Island 2013's cancellation due to the flooding and the state of emergency issued in Calgary in June was an unprecedented situation for the festival and its attendees, participating artists, partners and friends. The flood brought real devastation and loss, which was matched by an undeniable and inspirational spirit and resolve. In the wake of the flood, Sled Island offered refunds to all ticket and pass holders and faced losses of up to $200,000. Today, we are thrilled to report that thanks to the overwhelming support of our community, including attendees, artists and our numerous partners and other supporters, Sled Island will return as strong as ever in 2014.

Our most sincere gratitude goes to our pass holders. During the four week period following this year's cancelled festival in which Sled Island offered full refunds to all pass holders, nearly 70% chose not to ask for a refund or chose to reinvest their refund in the festival through our online charitable donation page at InvestYYC.com. This strong and humbling show of support is the clearest signal to date of the incredible and growing community that exists behind Sled Island. We've always said Sled Island has the greatest festival community in the world and this claim rang loud and clear during the festival's greatest challenge.

As well, the ongoing commitment of the Calgary Hotel Association and Calgary Arts Development Authority (CADA) to Sled Island through the Remarkable Experience Accelerator program has been instrumental in allowing us to respond to both the immediate and long-term needs of the festival. We are also grateful to Heritage Canada, which has committed its support to the festival for the third straight year through their Building Communities Through Arts And Heritage program.

Thank you to every person who purchased a 2013 festival pass or ticket, those who chose to see that purchase as a long-term investment in the future of this festival and to every artist, volunteer and partner who helped Sled Island overcome such tremendous adversity.

We would also like to specifically thank The Calgary International Film Festival, Theatre Junction GRAND, The Calgary Underground Film Festival, the Quickdraw Animation Society, Republik, Broken City, Commonwealth and Tooth Blackner for offering passes, season's tickets, concert tickets and discounts to Sled Island pass holders as a show of support during the festival's refund period.

We can't wait to see you all again when Sled Island returns June 18 to 22, 2014!
Permalink