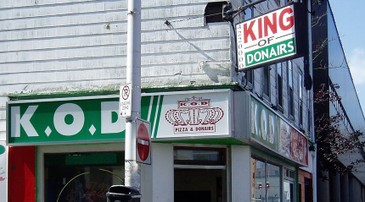 One of our favourite festivals in the world, The Halifax Pop Explosion (HPX) is just one week away. For twenty one (!) years, HPX has managed to grow annually without ever losing sight of what makes it such an incredible festival: intimate, revelatory concerts that help to showcase the city and its scene.

With over 180 bands in 20+ venues, there's a lot to take in. As such, the Sled Island staff have put together a nice little list of recommendations - everything from shows by Atlanta-based, hip-hop year-end-list-topper Killer Mike to late-night grub-topper, donair sauce. We did this partly because we want to help and partly because it just might allow those of us in Calgary to live out HPX 2013 vicariously through you.
WHAT TO DO
Ardmore Tearoom 6499 Quinpool Road
The perfect place to cure your hangover, fill your belly and keep some loonies in your wallet for the next round. The Ardmore is also great place to console yourself by observing those whose hangovers are somehow worse than yours. Try the lumberjack with a shake.

Gus' Pub 2605 Agricola Street
This is my favourite venue in Halifax. The exterior is cherry red and has a large sign with a grandad in all plaid advising you to not drink and dress. The interior is cozy, has a corner stage, a separate VLT room and cheap beer. There are some foggy but extremely awesome memories in this pub--I would set up camp here on the Friday as one of my favourite bands, Ketamines kick things off in the afternoon with a stacked bill of Tough Age, Black Mold, Jon McKiel, Ghostkeeper, and many more!
Steve-O-Reno's Cappuccino 1536 Brunswick Street
Halifax is where I learned to love coffee. Steve-O-Reno's set the bar high with their wonderfully addictive cappuccinos. Stop by this charming coffee house right off Spring Garden for your dose of caffeine before venturing up the Citadel Hill for a view of the Halifax Harbour. One shot or two!
Minato Sushi 1520 Queen Street
Halifax is known for many things, fresh fish and a quirky charm are two of them! There's a handful of great sushi places in downtown Halifax, but my favourite was always the house on Queen Street. Get a bunch of friends and grab a table upstairs or down for a delicious array of fresh east coast seafood in the form of sushi!
Donair Sauce e v e r y w h e r e
donair sauce option
you improve all late night grub
and pizza I love
I just wrote a haiku for donair sauce--THAT's how important it is. Take advantage of having it readily available while in Halifax. Drown everything you can in it. Donairs? A given. Go right for the gold and head to KOD. Pizza? I will personally shame you if you don't go to pizza corner (Blowers & Grafton Streets) and try it on a slice. This has become my favourite treat of all time. Fries, garlic fingers, in a bowl... whatever, just trust me--if donair sauce is an option, put it on whatever you have in front of you and thank me later.
WHO TO SEE
First off, we recommend checking out Sled Island at HPX. We're thrilled to be out in Halifax in spirit with a showcase featuring a handful of great live bands, a couple of which have graced, er leveled Sled Island stages in previous years. From the angular, throat-shredding but always tuneful Obits, fronted by Rick Froberg of Hot Snakes, Drive Like Jehu and Pitchfork to the hypnotic and scuzzy garage pop of Tough Age, who you might recognize from Korean Gut, Witch Baby, No Band, etc. Come out and tell 'em folks how much we appreciate them playing our party, won't you? It's sure to be a highlight among a festival filled with highlights. Some of those include...

A Collaborative Performance Featuring Dirty Beaches & Moon (Everywhere & Halifax, NS)
Alex Zhang Hungtai from Dirty Beaches is the type of vagabond drifter that can adapt to any place, sound or movement. For this special Halifax performance he will be joined by members of Moon, laying their spaced-out krautrock grooves to the irresistible guitar and vocal delivery of Dirty Beaches.
BA Johnston (Halifax, NS)
All of the Johnston concerts I've been to have been my favourite. His banter, wardrobe, facial hair and classic songs such as "As I am in Tim Hortons I realize I hate Tim Hortons" are all just fodder for your BA Johnston crush. Missing one of his shows is such a rookie mistake.
Brian Posehn (Los Angeles, CA)
I've been in love with Brian for a long time for his work on Mr. Show and The Sarah Silverman Program. But all you really need to know about Brian is he has an album called Fart and Weiner Jokes. If that doesn't sell you, absolutely nothing I could say about him would. If you can't see him in Halifax, the man is coming to Republik on November 23!
Chad VanGaalen (Calgary, AB)
Bringing together music, animation, jokes and lanky charm, CVG cuts through endless dad rock/dads that rock comparisons. Dude never disappoints.
The Highest Order (Toronto, ON)
Smoky poetic lyricism. Simone (of One Hundred Dollars) pairs with stalwart musicians to deliver a mystical, psych country mix.
Ketamines (Toronto, ON)
They just released a super memorable slab of oh-so-catchy garage pop and essentially have an open invitation to play Sled Island 2013 anytime they want.
Killer Mike (Atlanta, GA, USA)
2012's politically charged R.A.P. Music was probably on a million best of lists. Atlanta's Killer Mike is a force live, would not miss this.
Lunice (Montreal, QC)
B-Boy? Producer? DJ? Montreal's Lunice seems uninterested in the distinction. After meeting Hudson Mohawke during one of Lunice's wild Turbo Crunk parties, the pair coined their subsequent work together TNGHT, a project that would literally shatter glass at 2012's SXSW and result in a much talked about EP, praised by the EDM and hip-hop worlds alike. Though the pair has found fame together (later production credits including L'il Wayne and Kanye West), Lunice still keeps incredibly busy with solo productions and sets around the globe. When I saw him at the Hifi Club last year, his ace track choices and charisma from behind the booth kept a full room dancing till the wee hours.
Metz (Toronto, ON)
They were up for the Polaris Music Prize. They play some of the loudest, noisiest punk rock going today. Mostly, though, we just wish their Sled Island shows hadn't been flooded out. Sigh.
Old and Weird (Halifax, NS)
Old and Weird are one of my favorites from Halifax. I first discovered them on the Khyber compilation, Vol. II (p.s. Halifax you have wonderful bands), and fell in love with their sound right away. Their brand of indie pop never fails to make me happy. I sadly have yet to see them (please come to back to Calgary soon, ladies), but you should go see them when they play HPX for the Weird Canada Good Times Party Jam at the Pavillion, on October 26th, at 2:45pm. Which you should, because the rest of the bill looks great, and Weird Canada is the best!
Pick a Piper (Toronto, ON)
Brad Weber has a distinct feel for rhythm. Starting out playing in Winter Equinox, Weber was soon acquainted with a certain Dan Snaith, the mastermind of Polaris winners Caribou. 2007 saw Weber take on drumming duties for Caribou and if you've been fortunate to catch them since, you're already aware of Weber's prowess behind the kit. The complex rhythms of Caribou gave Weber the idea to start a polyrhythm-centric group all his own. Pick a Piper was born and are now riling up dancefloors at the same time as locking in the head-nodders with their engaging sets. Having watched Pick a Piper play a small living room at one of the unofficial "Flood Island" make up shows back in June, I'm psyched to see how their sound will fill a larger space.
We Are Wolves (Montreal, QC)
Lovable art punks playing the absolute shit out of their synths, bass and drums. They've been doing it forever, but somehow seem to get better each year. If you dug Duchess Says at Sled Island 2012, give these guys a shot too.
Permalink