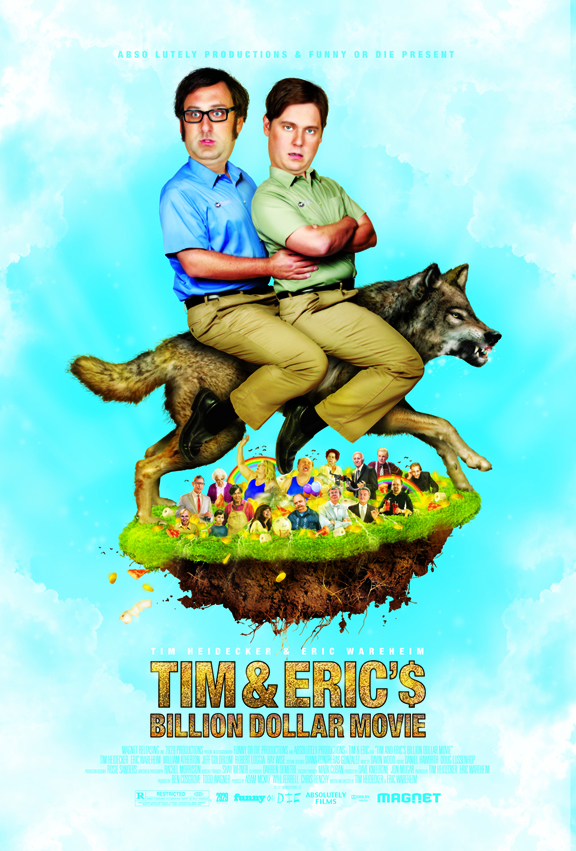 Comedy and film enthusiasts mark your calendars! On Thursday April 26th, Sled Island is hosting a warm up to the festival with a screening of Tim and Eric's Billion Dollar Movie at the Globe Cinema (617 8 Avenue SW). Doors open at 6:30pm and the screening starts at 7pm. The evening will be hosted by Jesse Pruden and Evan Wilson from Am I Right?. Tickets are $10 and $8 for student with valid ID. This event is sponsored by Sled Island, CJSW and Calgarymovies.com.
Tim and Eric's Billion Dollar Movie is a new feature film from the twisted minds of cult comedy heroes Tim Heidecker and Eric Warheim ("Tim and Eric Awesome Show, Great Job!"). The premise of the film begins when Tim and Eric are given a billion dollars to make a movie, but comically squander every dime! The sinister Schlaaangcorporation is mega pissed and Tim and Eric's lives are at stake. The comedic duo are forced to skip town to search for a way to pay the money back. Expect the usual jaw dropping hilarity of Tim and Eric's misadventures along with dozens of cameos from Awesome Show regulars!

The last day for submissions to be considered for Sled Island Film is tomorrow, Friday April 6th. All submissions are subject to Festival Submission Guidelines and Regulations, listed at the bottom of the form found on the Film Submissions page. To access the submission form please click HERE.
Sled Island Film happens June 18 - 20, 2012, a few days before the fesitval dates. Stay tuned for the film schedule and information to be announced on May 1st!
Permalink