FILM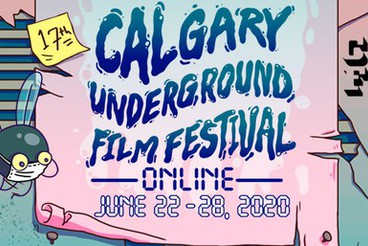 THE CALGARY UNDERGROUND FILM FESTIVAL IS AVAILABLE TO STREAM ONLINE ALL WEEK LONG!
Can't make a specific film screening time? Don't fret, most of the films are available on-demand post-original screening!
Elevating Calgary's cultural landscape with the best in international independent cinema, the 17th Calgary Underground Film Festival (originally scheduled for April 20-26) will return in 2020 from June 22-28 as an online festival. Throughout the 7-day online event, you'll discover unique independent and genre films streaming in Alberta for the first time, shorts packages, Q&As with filmmakers, programmer intros before all films, and interactive experiences. The festival will take place on the platform CineSend, and will feature a mix of live events and the ability to stream films on-demand. Special initiatives include four nights of drive-in screenings at Big Rock Brewery, collaborations with Sled Island, and CJSW curated playlists for each film. Films will be closed-captioned or subtitled to make our programming more accessible.
For the full line-up, please visit Calgary Underground Film Festival's website.
While the festival will look different this year, we're working hard to keep the CUFF experience alive in the virtual world and provide a fun, engaging, unique community experience for our audience, filmmakers and partners.
CUFF has provided a very helpful and detailed FAQ about their online event!