Special Event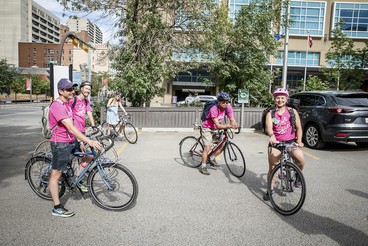 SLED ISLAND'S WEEK-LONG BIKE SCAVENGER HUNT
While frantically biking from venue to venue to catch as many bands as you can may not be physically possible this year, we're offering the next best thing with an all-new Sled Island Bike Scavenger Hunt designed to mimic the same venue-hopping fun. We encourage you to -- if possible -- get off the couch or away from your screen for an afternoon or two, hitting as many spots around town as you can, discovering standout photos from our history displayed at our venues, all for a chance to win some Sled Island swag.
RULES:
snap a photo (or better yet, yourself in front) of the answer to the clue;
post it to your Instagram feed with #SledIslandScavengerHunt (tag @sledisland) or email it to info@sledisland.com by Sunday, June 28 at 11:00pm MST
...each eligible photo will count as an entry into a grand prize draw for:
A framed Sled Island limited edition screenprinted poster of your choice
Three (3) additional screenprinted Sled Island posters of your choice
A t-shirt from the Sled Island archives of your choice
A Sled Island water bottle
A Sled Island tote bag
Sled Island-branded downbeats earplugs
Even more archival swag!
SCAVENGER HUNT STOPS
TUBBY DOG: head on over to Calgary's only punk rock hot dog joint to see a photo from a particularly memorable show that not only spilled ketchup and mustard, but also spilled out onto the streets! Snap a photo of it or the venue!
CAFFE BEANO: Caffe Beano has been a long time supporter of Sled Island and the art community at large. Stop by this neighborhood fave to grab a drink and snap a pic! Mention you're there for Sled Island and receive 10% off all drinks.
*MYSTERY LOCATION*: where can you see a cool all-ages show AND pick up some new music? This 17th ave staple is your one-stop music shop and, this week, even features a rack of Sled selections! Snap a pic of this venue, and maybe pop inside to sna some new music!
THE OLD REPUBLIK: one of the most beloved and missed venues in Sled's history, the Republik had multiple locations and standout shows in its lifetime as part of the fest, from Bob Mould to Duchess Says to Jaga Jazzist. Snap a photo of its most recent one, now housing by a brewery that used to sponsor the fest!
*MYSTERY LOCATION*: is there anything better than laying in the grass while listening to live music? Probably not. This Central park is home to one of the few Sled Island outdoor stages! Take a pic of the park's signature fountain
HIFI CLUB: this Calgary hip hop duo was actually signed to Sub Pop after Shabazz Palaces witnessed their raucous live set at Sled Island! Snap a photo of them or the venue!
*MYSTERY LOCATION*: this Calgary landmark was not only the location of Sled Island pass-pickup, but also provided a place for some of our biggest headliners to get their beauty-sleep. Snap a pic of this 106 year-old hotel!
PALACE THEATRE: while nearly 1,500 saw her sold out show at the festival, it feels like this 2016 festival curator was seen by thousands more as she seemingly attended every event at the festival one physically could! Snap a photo of her or the venue!
CENTRAL UNITED CHURCH: this festival alum topped Paste Magazine's 50 best albums of 2019, beating out other acts including Angel Olsen and Jessica Pratt, both of whom also played the stunning room! Snap a photo of her or the venue!
PALOMINO: this larger than life, zombie-slaying, leather-clad Japanese garage punk band played one of the loudest and most-packed Sled Island shows in history! Snap a photo of them or the venue!
#1 LEGION: maybe an early warning indicator of his Vice series on professional wrestling to come, this Canadian punk band's singer split open his forehead during a particularly memorable Sled Island show. A true Legion supporter, he's also been seen sporting a #1 Legion shirt on Canadian and American news! Snap a photo of them or the venue!
KING EDDY: it's hard to imagine, but this Ethiopian jazz legend was, just days before playing a lined-up around the block show at Sled, pulling shifts as a taxi driver in Washington, DC! Snap a photo of him or the venue!
STUDIO BELL: this former member of Battles has played everywhere from Carnegie Hall to the Guggenheim, but it's hard to imagine a more special performance than the intimate audio-visual mindmelt that happened at the National Music Centre. Snap a photo of him or the venue!
CENTRAL PUBLIC LIBRARY: added as a Sled Island venue in 2019, this architectural marvel hosted Sled artists William Basinksi and Andy Kindler. Snap a pic of the "Drinking Birds"!
EAST VILLAGE RIVERWALK: while now occupied by incredible can't-miss spots, including the newly opened Connie & John's Pizza and long-time fest partners Phil & Sebastians, at one point this was the location for our free and family friendly East Village Block Party. Snap a photo of the riverwalk, water or your fave spot alongside it.
THE UPTOWN/MARQUEE ROOM: it ain't what it used to be...once a beautiful building that housed not just a theatre and incredibly important indie music venue, but a burgeoning Calgary arts scene, including the now legendary Factory Parties, this iconic spot is no more. We hope it's not too painful to snap a photo of what remains.
THE GLOBE CINEMA: wanna catch a film during Sled Island? This theatre is the place to be. Across the street from former Sled venues Marquee and The Uptown, this cinema also plays hosts to film festivals such as CIFF and CUFF. Take a pic of on the theatre's "Coming Soon" posters!
DICKENS PUB: not just a music venue, also a community hub, this venue has housed some truly incredible concerts over the years: from Hot Snakes to Cherry Glazerr, from a member of the Replacements to Psychic TV and beyond! Sadly, it'll be awhile before a spot like Dickens can open up again, so snap a photo of the venue and keep them in mind when you can support them again!
*MYSTERY LOCATION*: before it became Contemporary Calgary, this out of this world venue housed a particularly memorable Chad VanGaalen show with his animations covering the incredibly unique venue. Snap a photo of the building!
*MYSTERY LOCATION*: before Sled Island housed a big outdoor stage at Olympic Plaza, it took over this field in 2008 for a stacked lineup including Mogwai, Wire, Broken Social Scene, Yo La Tengo, Portastatic, Jonathan Richman, Drive-By Truckers, Women, Chixdiggit and more! Snap a photo of the field (or armoury that was our green room)!
ABOUT PROHAB HELMET SOCIETY
We also recommend picking up a helmet from our good friends over at Prohab. They offer pay what you can helmets to the Calgary area. We share office space with them and they are fantastic people who are dedicated to looking after your noggin' no matter what.
The Prohab Helmet Society is a non-profit organization dedicated to promoting and providing helmets to cyclists who are not wearing them. We encourage safety and strive to break down any image barriers associated with the use of bike helmets and protective gear. We love fun, and being safe while having it. Our helmets are offered in exchange for a donation of any amount to Prohab.
Prohab Calgary was started by Lindsay Shedden and Shane Rempel, after a successful partnership with the 2011 Sled Island Festival, where over 120 people received new helmets by donation. Since then Prohab Calgary's presence has grown exponentially. Shane, Lindsay and mostly everyone else who is involved with Prohab Calgary are inspired by having experienced the loss of Dan Winnick, who succumbed to his injuries after he was involved in a cycling accident while not wearing a helmet. Prohab Calgary is currently involved with number of local cycling initiatives to spread our message to younger communities.
With the support of great pals, the community and through various fundraising efforts we strive to encourage people to wear helmets.
Through our relationship with our current partner, Nutcase Helmets, we hope to grow awareness and get some nice looking lids onto people's heads.