FILM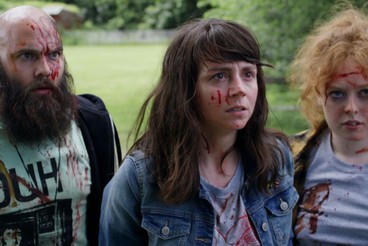 CALGARY UNDERGROUND FILM FESTIVAL DRIVE-IN: UNCLE PECKERHEAD (SOLD OUT)
Narrative / Comedy / Horror / Music / Drive-In English Rated: 18A Gory Scenes / 95 minutes
DRIVE-IN (SOLD OUT) AND ONLINE VIEWING OPTIONS! As part of the Calgary Underground Film Festival, Sled Island is happy to support this special drive-in screening with on-demand option!

As the bassist of the three-piece punk-rock band, DUH, Judy dreams of quitting her job and touring full time. With no van and a string of gigs booked, the slacker band is getting desperate. Enter Uncle Peckerhead. Soon the band finds themselves on their first tour with a man-eating hillbilly for a roadie and "gig life" is filled with nightmares and half-eaten bodies.

UNCLE PECKERHEAD is a bloody feature film debut that splatters the screen with great music, cheap thrills, gory mayhem and a helluva lot of fun.
Alberta Film Classification Rating: 18A Gory Scenes
Drive-in Location: Big Rock Brewery, 5555 76 Ave SE (map) Tickets must be pre-purchased online in advance. No tickets are being sold on location. Beer and food are not being sold on the premises.
OFFICIAL SELECTION
Cinequest 2020
Florida Film Festival 2020
DIRECTOR'S BIO
A native New Jerseyan. A subversive cinephile. A hater of cats. Matthew John Lawrence writes, directs, produces, and edits micro-budget movies and is an Assistant Professor at The College of New Jersey where he teaches courses in media studies and production. Matthew received his MFA in Film Production from Boston University with a concentration in Screenwriting and Directing. Matthew has made several short films including short film LARRY GONE DEMON (2015), as well the feature film TWO PINTS LIGHTER (2014). UNCLE PECKERHEAD (2020) is his second feature film.