FILM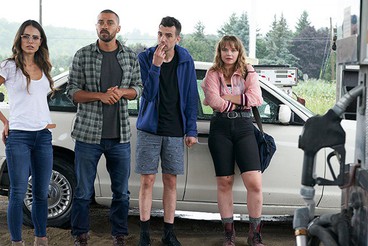 CALGARY UNDERGROUND FILM FESTIVAL DRIVE-IN: RANDOM ACTS OF VIOLENCE (SOLD OUT)
18A Gory Scenes / 80 minutes
DRIVE-IN ONLY! As part of the Calgary Underground Film Festival, Sled Island is happy to support this special drive-in screening!
A comic book writer, Todd Walkley (Jesse Williams), and his publisher, Ezra (Jay Baruchel), made their careers on their comic book based on a real-life serial killer called Slasherman. Twenty years after the Slasherman killings, the duo coordinate a press tour to announce the launch of their final issue, and visit the town where the original murders took place. Soon the two notice scary similarities between the character they created and horrific real-life events that begin unfolding once again in the town.
Based on a comic book by the same name, RANDOM ACTS OF VIOLENCE is the second directorial effort from Canadian actor-turned-director Jay Baruchel (GOON: LAST OF THE ENFORCERS). The result is an extremely violent and gruesome slasher that offers commentary on the influence of media violence.
Tickets must be pre-purchased online in advance. No tickets are being sold on location. Food and beer are not being sold on the premises.
OFFICIAL SELECTION
Fantastic Fest 2019
DIRECTOR'S BIO
Jay Baruchel is a Canadian actor, director, stand-up comedian and screenwriter. He is known for his roles in comedy movies such as KNOCKED UP, THE TROTSKY, GOON, THIS IS THE END and in Judd Apatow's comedy series UNDECLARED. Baruchel made his feature film directorial debut with GOON: LAST OF THE ENFORCES (2017), which he also wrote and starred in. RANDOM ACTS OF VIOLENCE (2019) is his second feature film.