Special Event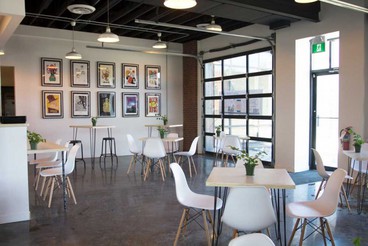 ALBERTA BREWERY SPOTLIGHT: DANDY BREWING COMPANY
We recommend stopping by Dandy Brewing Company to stock up on beers to complement your day's activities at home, whether they include listening to the Sled Island Lemonade Stand compilations, reading books from Shelf Life's curated reading list or pre-drinking before a night out at one of the Palomino DJ sets. Dandy is run by fantastic people heavily involved in Calgary's music & arts community and we couldn't recommend them enough! Known for incredible sours and hihly crushable pilsners and session ales!
The Dandy Tasting Room will be open all week long! Tuesday-Sunday! Dandy is taking the time to ensure the safest experience for staff and customers. There will be a few less seats, and a few changes to the room, but the times are still Dandy!
Beers and Snacks, Off-Sales and Delivery
Dandy offers pick-up and delivery of the full line up of delicious Dandy beers and select tasting room snacks within the Calgary city limits. Please order your beer and food from here!
Deliveries run two days a week: Tuesday and Friday. All orders received before noon Tuesday go out Tuesday, all our orders before noon Friday will go out Friday.($4.00 delivery charge city wide, orders received after noon will be delivered the next delivery day)
Pick up is available Noon-8pm, Tuesday-Sunday
Dandy Ghost Kitchen
Full meals are available 4pm-8pm Wednesday-Sunday. Order online, and pick up in 30 mins.
Chef Merritt Gordon has put together a comforting, fine dining inspired menu. At this time, meals are only available for pick up from the brewery.
Meals are $30/person and feature multiple dishes (including dessert!) meant to bring a little comfort in these unique times.
About Dandy Brewing Company:
The story goes back. Two high-school classmates begin a business, they graduated and went their separate ways. They cross paths again years later to discuss an interest, and a passion.
In the fall of 2013, the Alberta Gaming and Liquor Commission made sweeping changes to the brewing industry in Alberta, allowing small craft breweries to exist. It came at a perfect time. For years Ben Leon, a teacher, and Dylan Nosal, a chef, had been growing their home-brew experience, not only in size but also in knowledge. Over the course of a few years of practice, learning, and many batches, they began brewing exceptional beers on a home-built 1BBL brewhouse.
While honing skills, the two were developing a keen taste for the growing selection of Craft beer flooding into Alberta. Much of their guidance came from Matt Gaetz, a veteran of the liquor business in Alberta, and a close friend. Between the three of them, the topic of starting something amazing often came up over beers and brewing. They knew they wanted it, they just weren't sure it was possible under old laws. Changes in law meant it was possible.
Discussion after discussion, batch after batch, ideas developed into plans. What it always boiled down to was that the brewery would have to be exciting, forward thinking, and outside the traditional thought box for breweries in the province. Exciting beer styles, quality ingredients, and attention to every detail of production.
Cue the return of Derek Waghray, a high-school friend studying chemistry on the West coast. On his return to Calgary, and with a new found interest in brewing and craft beer, he got in touch with an old high school friend. A home brew batch later, and a discussion of wild dreams, he was added to the group. He was a much needed addition bringing expertise in laboratory process and a deep understanding of the science behind the beer.
When the laws were officially changed in December 2013, the four Dandies moved quickly to hammer out the final details for The Dandy Brewing Company.
In January 2014 the Dandy Brewing Company was incorporated. April 2014 the lease was signed. June 2014 the brewhouse was built. August 2014 the brewing began. September 2014 the beer hit the shelves. April 2015 the first draught accounts started pouring. November 2015 the Tap Room opened. January 2016 a three-fold expansion of capacity was completed.
April 2018 saw the opening of the The Dandy Brewing Company and Tasting Room, a new production facility and full service tasting room located in the heart of Ramsay, Calgary. Fine Dining drinking food. Dandy beers. Cocktails. wine. The full Dandy experience.
This story is just beginning.