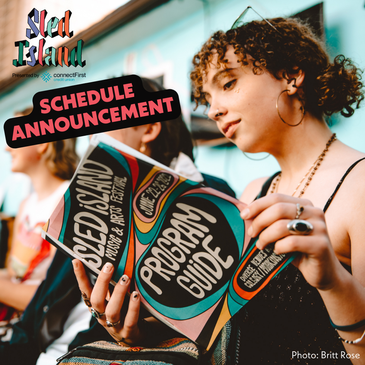 The wait is finally over! The full Sled Island 2023 schedule is here, including all the details for film, art, special events, conference programming and the return of the Ramsay Block Party! Check it all out on our online schedule, which features new improvements and once again includes the ability to build your own personalized schedule!
Sled Island's Ramsay Block Party is back! Just like last year, the free, family-friendly extravaganza will take place in Ramsay at the Lilydale Parking Lot, running from 12-9pm on Saturday, June 24! The all-day party will feature live music from Cola, Pom Pom Squad, and many more! PLUS free skateboarding from The Compound, food trucks from The Curryer, and Arepas Ranch, an art battle at nvrlnd. Arts Foundation, beer from Eighty-Eight and Dandy, cocktails from Tumbler and Rocks, ice cream from Lukes Drug Mart, Dance Dance Revolution courtesy of CBC Calgary, and face-painting, bubbles and tasty treats from our presenting sponsor connectFirst Credit Union!
Some of this year's art programming can also be found at the location of our Ramsay Block Party, including the AUArts Students' Association Exhibit, featuring work by emerging artists from the Alberta University of Arts at nvrlnd. boutique. Also, be sure to check out our annual Sled Island Poster Show, running June 20-25 at I Love You Coffee Shop.

Sled Island Film is back with the Canadian premiere of Even Hell Has its Heroes, the story of the slowest metal band on the planet, Earth, kicking off the festival on Tuesday night at the Globe Cinema! As a bonus, the documentary will be preceded by four short films shot and composed by local filmmakers with disabilities at the National accessArt Centre.
Read More >>
Permalink