Special Event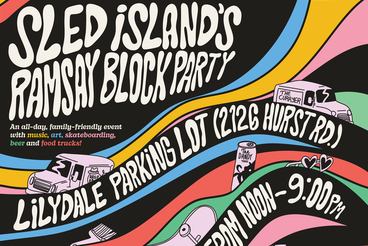 Sled Island's Ramsay Block Party
Sled Island's Ramsay Block Party is a fresh new take on our free, family-friendly, all-day extravaganza!
This year's event will take place in Ramsay between the Lilydale Parking Lot (2126 Hurst Rd SE) and nvrlnd. arts foundation (1048 21 Ave SE) running from 12 - 9pm on Saturday, June 25! The all-day party will feature live music from Chad VanGaalen, Julie Doiron, Living Hour and many more, PLUS free skateboarding from the Compound Mobile Skatepark, food trucks courtesy of The Curryer and Arepas Ranch, beer and other tasty beverages from our sponsors at Eighty-Eight and Dandy Brewing (including some specialty Sled Island collaboration beers yet to be announced), and much more!
LINEUP
12:00pm - Bad Bodies
12:50pm - Thomas Thomas
1:40pm - Dot Cardigan
2:30pm - Marlaena Moore
3:20pm - Love Language
4:10pm - No Frills
5:00pm - Big Rig
6:00pm - Living Hour
7:00pm - Julie Doiron
8:00pm - Chad VanGaalen
Some of this year's art programming can also be found at the Ramsay Block Party, including an art showcase from Chad VanGaalen taking place at nvrlnd. boutique and an art market featuring nvrlnd. artists.
Thank you to our partners at City of Calgary, Dandy Ales, Eighty-Eight Brewing, The Green Line, Nvrlnd and The Compound!