FILM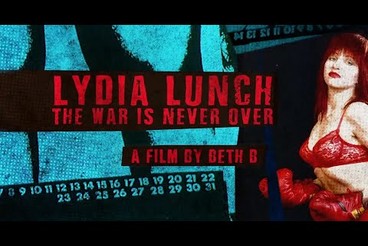 Lydia Lunch: The War Is Never Over (followed by artist talk and Q&A with Lydia Lunch)
DOCUMENTARY, DIR. BETH B, USA, 2019, 75 MINUTES
Lydia Lunch: The War Is Never Over by Beth B is the first career-spanning documentary retrospective of Lydia Lunch's confrontational, acerbic and always electric artistry. As New York City's preeminent No Wave icon from the late '70s, Lunch has forged a lifetime of music and spoken word performance devoted to the utter right of any woman to indulge, seek pleasure, and to say "fuck you!" as loud as any man. In this time of endless attacks on women this is a rallying cry to acknowledge the only thing that is going to bring us together - ART...as the universal salve to all of our traumas.
The screening will be followed by an artist talk and Q&A with Lydia Lunch.
Icon of the New York 70's No Wave scene, Lydia Lunch has built an impressive musical career spanning four decades while always marching to the beat of her own drum. Held as a symbol of the DYI ethos, the 63-year old musician, poet, actor and visual artist still works fully independently, without a manager or PR agency and releasing albums on her own label, which hasn't prevented her from working with high-profile artists such as Sonic Youth, Henry Rollins, Nick Cave and more recently Nicolas Jaar. Come hear her share her advice, experience and wisdom on how to build a career on your own terms.