MUSIC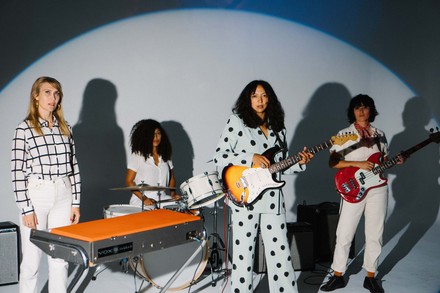 La Luz
(2022)
Grass Valley, CA
When La Luz burst onto the garage-rock scene in 2012 with debut album It's Alive, it was immediately clear their take on surf-inspired, noir-leaning songs was here to stay. The band's snappy rhythm section, chunky organ melodies, guitar rave-ups and AM gold-harmonies felt fresh and vital even when among their similarly influenced peers.
La Luz toured endlessly in support of It's Alive and proved that those songs that crackled through reverb in the studio made for a hell of a party on stage. The invigorating grooves found on tracks like "Sure as Spring" and "Call Me in the Day" burned even brighter and hit even harder in the live setting.
Off this solid foundation the group sprung into the recording of 2015's Weirdo Shrine, a critical hit produced by Ty Segall in a converted surf shack. And while that record was heavily inspired by a science-fiction graphic novel about a supernatural STI, its recording aesthetic more accurately captured the rushes and crashes of seeing the band perform live. Another household-name producer entered the fray for Floating Features: Dan Auerbach of The Black Keys. Crisp and more melodic than ever, the album brought La Luz to new heights both artistically and in audience size.
Things weren't always roses along the way. The band miraculously survived a freak-accident bus crash in 2013 and founding member, vocalist and guitarist Shana Cleveland more recently announced that she had breast cancer. But now the band is back on the road in support of its excellent self-titled album from last year. With psych elements and dialed up folk-noir elements from Cleveland's solo career, it exemplifies an already-at-peak band refreshed and ready for its next exciting chapter.