MUSIC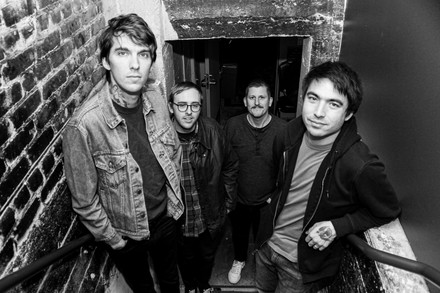 Joyce Manor
(2022)
Torrance, CA
California good-time punks Joyce Manor are back with 40oz. to Fresno, the band's sixth album in a career spanning over a decade.

Formed in 2008 by lead vocalist-guitarist Barry Johnson and guitarist Chase Knobbe after a drunken visit to Disneyland, Joyce Manor's self-titled debut album came out in 2011 and was named Punknews' album of the year. A look back at the album on its 10-year anniversary from Pitchfork called it "the first definitive punk album of the Tumblr era" and the band itself "a SoCal Guided By Voices that exclusively drank alcopops." With 10 songs that came in just under 19 minutes, the band explored crushes, getting drunk and feeling trapped in a small town — all staples of pop-punk — but with a distinct perspective and with some songs that eschewed verse-chorus-verse structure.

Listeners across lines of pop-punk, emo and indie agreed — this was something special. From there the band would continue to receive acclaim, sell-out shows and release an album roughly every two years, each tooling with what can be done that's actually new in a genre with fairly strict restraints. Notably, third album Never Hungover Again marked the band's signing to the legendary Epitaph Records and an evolution of sorts in sound. It turned up the already potent hooks to 11, added keyboards but kept the band's signature malaise smouldering just below the surface.

Now, the band will play one of its first shows following the release of 40oz. to Fresno (out June 10) at Sled Island, just a year after the 10th-anniversary remaster of its debut. With an ample catalogue of fan favourites and a new set of songs that are doubtlessly a next exciting chapter, it's a damn fine time to be a Joyce Manor fan.