MUSIC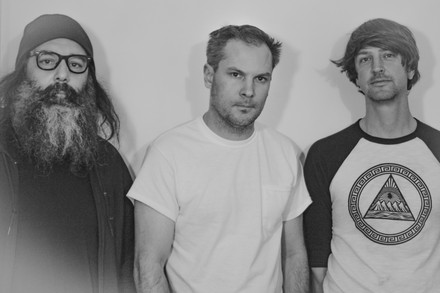 OM
(2020)
Albuquerque, NM / Chapel Hill, NC / Louisville, KY
The earth shattering and mind-melting OM originally formed in 2003 as a duo; not just any power duo, it should be noted, but maybe the most powerful duo, featuring the untouchable rhythm section that arose from the still warm ashes of legendary sludge and stoner outfit (and Sled Island alumni) Sleep. They have since grown into a trio that hasn't just continued to explode eardrums, but exploded the very tenets of the idiom within which they work.
While the stoner rock genre is often defined by a certain devotion, it's usually in reference to a rigid adherence to the principles laid out by the original (un)holy texts of Black Sabbath (1970), Paranoid (1970), Master of Reality (1971) and Vol. 4 (1972). OM's Al Cisneros (Sleep), Emil Amos (Grails) and Tyler Trotter (Bonnie Stillwatter) reach both further back and forward than those iconic touchstones. With as much musical and spiritual inspiration coming from Gregorian chants and Tibetan devotional music as neo-psychedelia, ambient music and dub, the band's monolithic riffs, contemplative drones and cosmic freakouts form a convincing argument that the metal genre may not have been birthed by the de-tuning of a single Gibson SG, or maybe even birthed at all, but been an inherent part of the human experience since the beginnings of time; an urge or creative gesturing towards the giant and nebulous meaning of life.
In the end, OM is heavy music, in volume and force, sure, but also in its expression of truly heavy feelings and concepts. They don't make music just for the bangers or music nerds, they simply make music that continues to fill the pews with true believers of all kinds.