MUSIC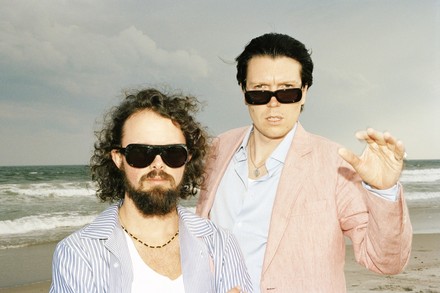 Alex Cameron & Roy Molloy
(2020)
Sydney, Australia
Alex Cameron's music can make you cringe and choke up in the same moment. His third album, the synth-pop/dive-bar rock opus Miami Memory, melds his ability to conjure unforgettable images with something new to his oeuvre — naked vulnerability.
A storyteller with a vivid imagination for grotesque and relatable characters, Cameron got his start with 2013's Jumping the Shark. The collection of bleak bedroom pop saw him embody the persona of a failed, aging lounge singer to spin yarns that drew from dark real-life experiences.
The resulting attention netted him tours with Angel Olsen, Mac Demarco and Unknown Mortal Orchestra, a gig songwriting for The Killers and a partnership with Secretly Canadian that began with Jumping the Shark's re-release in 2016.
His second album Forced Witness announced Cameron's true arrival with a full band including his saxophonist and business partner Roy Molloy. It expanded his arsenal of characters to include an online creep contemplating the end, a wannabe Marlon Brando and an existentially romantic dude who just got shat on by an eagle — that last one is a duet alongside Olsen with a video starring Jemima Kirke, Cameron's collaborator and romantic partner going forward.

Kirke and family life are big themes on the breezy anthems of Miami Memory, but that doesn't stop him from unleashing lines like "eating your ass like an oyster… the way you came like a tsunami." Characteristically, he's crude and elegant at once. This time, though, it feels rewardingly revealing rather than a smokescreen separating him from the listener.