MUSIC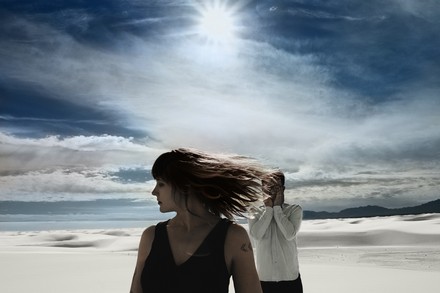 Wye Oak
(2018)
Baltimore, MD - Selected by Deerhoof
Every Wye Oak album tackles a different realm of indie rock, floating between foot-stomping ballads and a gleeful haze of electro pop. Despite their versatility, the band is consistent in crafting compositions that strike a delicate balance between quiet and loud, welcoming synths and jarring guitar riffs, bareboned melodic earworms and complex arrangements. It's hard to believe that Wye Oak's magic is the work of only two people, but Jenn Wasner and Andy Stack are both multi-instrumentalists who can multitask with ease.
Formed in 2006, Wye Oak quickly established their identity with a volatile and confident debut titled If Children (2008). The album showcased the duo's impressive range and unpredictability with slow songs that exploded into crescendos of emotion. Mining a bottomless supply of raw energy to cultivate rock diamonds, their breakthrough album Civilian found critical success as a culmination of everything the band had aimed for. Rather than play it safe, Wye Oak bravely switched gears with 2014's Shriek, a hypnotic testament to dream pop that embraced electronic elements without sacrificing the band's original rock foundation.
Wye Oak's Sled Island 2018 appearance marks the duo's first show in Calgary. Wasner's vocals hitting every mark while Stack effortlessly plays drums and keyboard simultaneously is absolutely mesmerizing. The pair perform like their minds are synced, implementing over a decade's worth of technique while maintaining the passion that has made their sound work since the beginning.
That magic is evident in their new material, too. Released just in time for their Sled Island show, The Louder I Call, The Faster It Runs sounds like a natural evolution of Shriek. Through swirling harmonies and wistful keys, the title track sticks like a childhood memory. Good luck getting it out of your head once the band has packed up their gear.