MUSIC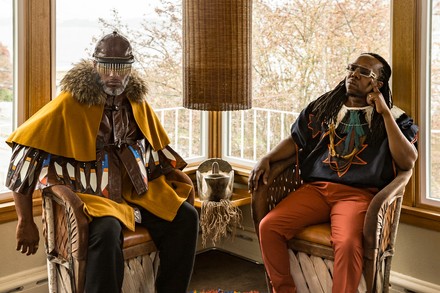 Shabazz Palaces
(2018)
Seattle, WA - Selected by Deerhoof
Vocalist Palaceer Lazaro (aka Butterfly of Digable Planets) and instrumentalist Tendai Maraire collide like titanium and lye, an unrelenting and all-consuming mix.
On stage, they wield an arsenal of analogue percussion and electronic whatsits that add a tactile depth to the wall of sound that underpins their surreal, investigative lyricism. They brought a maelstrom (honestly and truly, a rainstorm broke out at Olympic Plaza) during their performances at Sled Island 2012.
Those shows were in support of their landmark album Black Up (2011, Sub Pop). The album received international critical acclaim for brutally minimal electronic production and rhyming that recalled an ancient civilization from another planet. It was pre-Death Grips, pre-Yeezus, and has yet to be matched in experimental ambition by another rap act to this day. It kickstarted the notoriety of fellow extraterrestrials THEEsatisfaction, and was the seed sown to bring them to collaborate with artists like Flying Lotus, George Clinton and Thundercat.
Follow-up Lese Majestry was premiered at a fucking laser dome. Just savour that for a second. When was the last time you were invited to show your work at a laser dome? But this is 2018, and we are still reeling from two Shabazz records released last year. Occupying further space among heavenly bodies, the companion releases under the Quazarz umbrella simultaneously bring it back to Earth with a pointed critique of American society.
Now is no time to miss a Shabazz Palaces show. Tell your boss you need the day off already.