Visual Art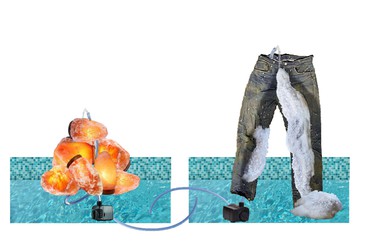 Sealing the Homunculus
In response to the ubiquitous indoor gardens and transitory lobby spaces often found in Calgary's office towers, artists Brett Bonk, May G N, and Sean Taal will create an ironic oasis in a waiting room in downtown Calgary. A lure from the street, the fountains, sculpture entwined with plants, and draping prints will beckon the viewers from the outside indoors. The space is inundated with a series of challenges in navigation. Think of equivalent exchange—no growth is achieved without a suffocation or obscurement. The person making their way through the space does not do so without making detours around the foliage. Eventually, you make your way through to the fountain, but even this is salinated, erosive; simultaneously building and corroding.
Presented in partnership with Alberta College of Art and Design and the ATB Financial.
---
ARTISTS
Brett Bonk, May G N, Sean Taal

ABOUT THE ARTISTS
Brett Bonk is invested in developing a highly specialized queer methodology. Equal parts plastic, pantyhose and perpetual instability, she organizes constellations of materials which orbit the viewer, only slightly sideways. Brett gained her BFA from Alberta College of Art + Design in 2017.
May G N is a Trans Albertan Artist that works with new media print technologies to produce work engaging with their personal navigation of territories that span the emotional, physical and societal. Through layering image, text and material, May G N provides scenarios where the decisions of the viewer are interrogated surrounding their relationship with queer identities and the territories they inhabit and change.
Sean Taal is a visual artist who lives and works in Calgary, Alberta. In 2012, he attended the AICAD New York Studio Residency Program, and graduated from the Alberta College of Art + Design with a BFA in drawing in 2015. Sean's practice focuses on belief and comfort by utilizing his strange sensory occurences through drawing, installation, and video.

Showing at ATB Art Vault Gallery June 19 - October 19, Mon-Fri 8:30pm - 4:30pm.