FILM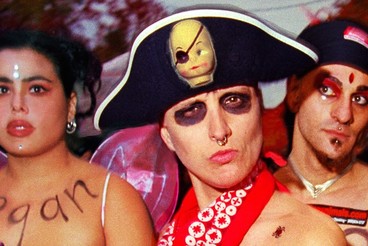 Queercore: How To Punk A Revolution
Documentary, Dir. Yony Leyser, Germany, 2017, 83 mins
We are delighted to again screen the work of Berlin-based director Yony Leyser, whose feature film Desire Will Set You Free screened at Sled Island 2016.
In his third film, Leyser looks at the birth of the queercore movement in the mid-1980s and its living legacy. Intended to punk the punk scene, artists used radical queer identity to push back against gay assimilation and homophobic punk culture, ultimately creating a community with international impact.
Featuring Bruce LaBruce, G.B. Jones, Genesis Breyer P-Orridge, John Waters, Justin Vivian Bond, Lynn Breedlove, Peaches, Silas Howard, Pansy Division, Penny Arcade, Kathleen Hanna, Kim Gordon, Deke Elash, Tom Jennings, Team Dresch and many more, the film explores the roles of homophobia, gender, feminism, AIDS, assimilation, sex and art in subverting a culture and creating a new one.
The documentary features music from Sled Island 2016 artist Hyenaz.
Screened with short films:
Faire Corps, Dir. Caroline Blais, 2 mins
Table Dance, Dir. Lindsay Arnold, 3 mins
Fiddling Neurons, Dir. Lesley Nakonechny, 2 mins