MUSIC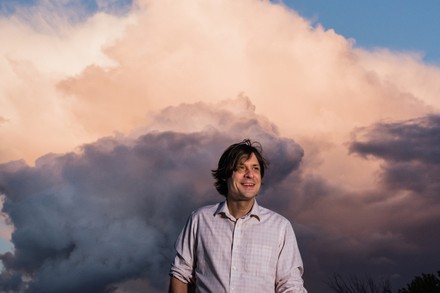 John Maus
(2018)
Austin, MN
You've probably heard by now that John Maus has a PhD in Philosophy. It's been looked at as a curiosity in the music press for a while, but it's far from the strangest thing about him.
It's always been a wild ride with the lo-fi pop wizard, whether it be his onstage thrashing or the intellectualization of action movie soundtrack aesthetics in his songwriting. You can confidently say that Maus is not a boring guy.
After meeting Ariel Pink in school back in 1998, Maus went on to be one of the original members of Pink's Haunted Graffiti ensemble. This also led to a stint playing keyboards for Panda Bear. Meanwhile, Maus was working on his own absurdist, hypnagogic pop compositions. While early reviews were unkind, Maus would laughingly post the scathing assessments on his MySpace.
Today, many of those critics have eaten their words. Maus' 2011 album We Must Become the Pitiless Censors of Ourselves was met with near-universal praise for its delirious interpolation of new wave melody and Maus' rumbling baritone. Later, Maya Rudolph would sing the album's single "Quantum Leap" in a short film for KENZO directed by Natasha Lyonne. Again, it's always a strange story with Maus.

Maus returned in 2017 with his first studio album in six years, only to announce a companion record would follow in 2018. This revival of creative output also saw Maus recruit a live band to accompany his onstage aerobics. With this fresh burst of energy imbued in his work, this may well be the best possible time to catch Maus in performance.