Visual Art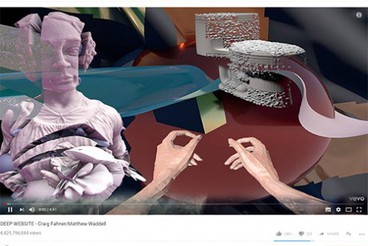 DEEP WEBSITE
Beyond the firewall a virtual paradise expands into the horizon. This place, known as DEEP WEBSITE is where lonely pleasures and infinite bandwidth merge. Links fornicate under a seductive laptop glow, drawing your gaze deeper into the endless cavity of kitty pics and 3D muscle bulge. The things you came looking for slowly dissolve as the hours pass and the mind softens. Fortunately browsing history vanishes once you resurface, leaving you with only a hazy memory of the foul clicks and regretful pixels that passed through your once innocent eyes.
Presented in partnership with EMMEDIA Gallery & Production Society.
---
ARTISTS
Craig Fahner and Matthew Waddell

ABOUT THE ARTISTS
Craig Fahner is an artist and musician from Calgary, Alberta. His electronic, video and sound-based works reimagine electronic systems, generating experiences that reflect on the logistical underpinnings of everyday life. Fahner's works have been shown in various exhibitions internationally, including the 8-11 gallery in Toronto, the 2017 Alberta Biennial of Contemporary Art, and the Device Art Triennial in Zagreb, Croatia. In 2010, he received the Disney Memorial Pausch Fellowship to pursue graduate studies at Carnegie Mellon University in Pittsburgh, where he received his MFA in 2013. He has been awarded project grants from the Canada Council for the Arts and the Alberta Foundation for the Arts. Fahner currently leads classes in Media Arts + Digital Technologies at the Alberta College of Art and Design and in the Art department at the University of Calgary.

Matthew Waddell is a digital artist and educator based in Calgary. He is fascinated by technology and the way it manipulates and impresses the human psyche. Since 2007 he has explored many paths of audiovisual creation and technological experimentation including sound and video design for theatre, interactive installation and architectural video mapping.