MUSIC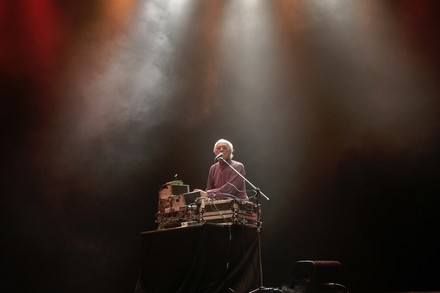 Silver Apples
(2017)
New York, NY
An electronic band formed in the late '60s, Silver Apples' history has been marked as much by setbacks and tragedy as it has been by historical innovation, culture-permeating experimentalism and life-changing live experiences.
With the mononymous Simeon playing the mad scientist, inventing his own synthesizer and finding new ways to use obscure '40s oscillators, paired with drummer Danny Taylor's adaptation from rock percussionist to ingenuous, genreless accompanist, the band had on its hands a sound never heard before or since. They share a kinship with German krautrock in the way that ESG does with New York no wave: both are happy accidents that reflect the electric current shifts of their eras.
Silver Apples were simultaneously the weirdest band around and among the most impactful: they made a live debut to 30,000 fans in Central Park and had their first album carry its own on the Billboard Magazine Top 100 for 10 weeks. That all came to a halt with the absorption of KAPP Records by MCA in 1971. Frozen out, Silver Apples receded from the world's view.
The band came back to life close to 30 years later, following Germany's TRC Records' brazen, bootleg release of their original two albums in 1994. This ignited a frenzy for an almost-lost piece of musical history. The second half of the '90s saw a fit of prolificacy from Simeon and Taylor, with three albums clocked in 1998 and plenty of touring coinciding. That same year, Silver Apples faced the impossible again when Simeon's neck was broken in a car crash.
It gets worse before it gets better: Danny Taylor died a legend in 2005. After all the duo had faced, it seemed only right Simeon continue the band's perseverance with solo performances kicking off in 2007 and ongoing to this day. Simeon also made a return to releasing albums in 2016, when Clinging to a Dream became the first release made under the Silver Apples name in 18 years.
It would be a fool's errand to try and measure or define the influence and status of Silver Apples just yet. Simeon seems poised to outlive us all, continuing to live in an alternate world where dissonance is melody and pop can't exist without drone. On your worst of worst days, just know you can always rely on the Silver Apples.