Special Event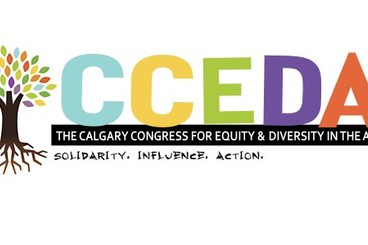 From Identity To Practice: Diverse Perspectives of Equity in the Arts
Most of the current conversations on equity and diversity in the arts are focused on issues of identity, representation and inclusion. This focus can often minimize the needed relationship between diversity and equity. Therefore, our panelists are purposely going to explore how diverse identities influence equitable artistic practice.
With panelists Jade Nasogaluak Carpenter (visual artist and board member of Stride Gallery), Mel Vee (spoken word artist and member of Uproot YYC Arts Collective), Frank Litorco (board member of Not Enough Fest Calgary, former News Director at CJSW 90.9FM), Tara Laverdure (visual artist, co-founder of Queer Youth Of Colour) and Danielle Black (writer and director, and creator of the Treaty 7 Film Collective, Production Manager for REDx Talks, and Indigiqueer).
Moderated by Jaqs Aquines, (musician/videographer, member of VOICES - Calgary's Coalition of People of Colour, member of advisory group Anti-Racist Organizational Change at CommunityWise, Stage Left Board Member).