MUSIC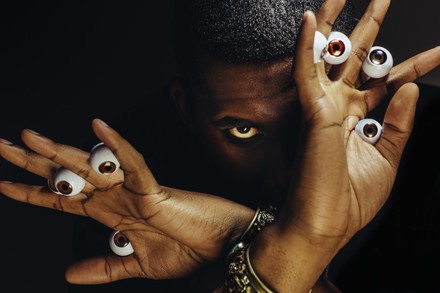 Flying Lotus
(2017)
Los Angeles, CA
Steven Ellison is one of the most inventive, exploratory and intrepid artists working today. In the 12 years he's been making music, the 34-year-old producer, rapper, DJ, label owner and filmmaker known as Flying Lotus has cemented himself as a one-of-a-kind talent, melding genres to make some of the most head-turning music ever created on a computer.
In the mid-2000s, Flying Lotus came to prominence as the madman soundtracking the increasingly weird bumper music on absurdist stoner television platform Adult Swim. It was his work on 1983, his first of five LPs to date, that proved just how imaginative he could be. From there he signed to esteemed record label Warp for his sophomore breakthrough Los Angeles, singlehandedly reviving a West Coast beat scene in the process.
It's amazing what Ellison can do with two minutes. His dense, erratic electronic music is like a universe in itself, constantly unfolding with new layers of multi-genre experimentalism. His latest album, 2014's You're Dead!, is a darkly psychedelic trip into the afterlife. Its sonics are indicative of his genre-bending sensibilities, mashing up glitchy electronics, post-rock, hip-hop, jazz and funk in equal measure.
As the creator of influential record label Brainfeeder, Flying Lotus has helped foster some of today's most notable new artists, including Thundercat, Kamasi Washington and DJ Paypal, to name just a few. His collaborators include some of the most visionary names in music: Kendrick Lamar, Thom Yorke, Erykah Badu and George Clinton. The appeal is obvious: his iconic production style simply can't be found anywhere else.
Still, Flying Lotus' live show is perhaps the most exciting thing about him. Imagine Ellison bent over his laptop, frantically playing live reworkings of his microcosmic music. As impressive as that is on its own, Flying Lotus doesn't just care about your ears—the visual component of his stage presentation would be a feast for the mind even with the music on mute. Playing with tessellated, intergalactic imagery in layers upon layers of blinding colour, it's no stretch to say that he's dedicated to every sensory element of the live experience.
It's clear that Flying Lotus will be a Sled Island guest curator like no other, and we can't wait to see what he dreams up for Sled Island 2017.