Visual Art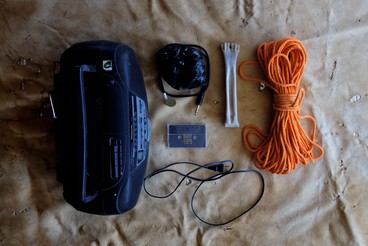 Ejideh: Push it!
Ejideh: Push it! is a moose hide that interrupts space through Indigenous construction and reverberations. When installed and touched, it becomes a decolonial instrument for resonating the Land.
Presented in partnership with Mountain Standard Time Performative Art Festival.


---
ARTIST
Tsēma Igharas

ABOUT THE ARTIST:
Tsēma Igharas (formally Tamara Skubovius) is an interdisciplinary artist and member of the Tahltan First Nation. She studied Northwest Coast Formline Design at K'saan (2005/2006), and holds a BFA from ECUAD (2011) and a MFA from OCAD University (2016). Tsēma's work was included in the notable group exhibition Culture Shift Contemporary Indigenous Art Biennale in Montreal and a solo exhibition at Gallery 44, Ore Body, for Imaginative Film Festival (Toronto 2016). Tsēma graduated from the Interdisciplinary Master's in Art, Media and Design program at OCAD University. Her thesis work, LAND|MINE, connected materials to mine sites and bodies to the land.
Running June 22 - 24 at the #1 Legion (Upstairs), 11:00am - 2:00am. Performance on June 22 at 7:30pm.