MUSIC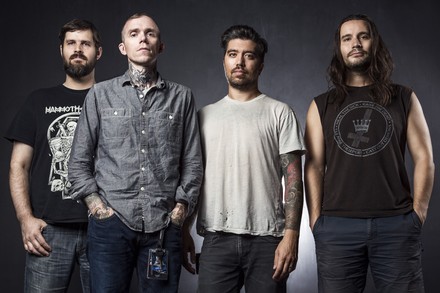 Converge
(2017)
Salem, MA
It's not surprising that metalcore pioneers Converge showcase a steady stream of fan tattoos on their Instagram account. Most often, it's an image of the cover art of Jane Doe, the band's 2001 opus that singlehandedly earned the band a cult following. Upon listening to Jane Doe, or any of the band's sprawling, eight-album discography, it's easy to understand the urge to have it engraved in your flesh for life.
Since 1994, vocalist Jacob Bannon, guitarist Kurt Balou, bassist Nate Newton and drummer Ben Koller have remained consistently thrilling, playing with punk, metal and hardcore conventions to create pummeling, visceral metalcore.
The brunt of the damage comes from Bannon and Balou, who together make up the all-star core of Converge. In addition to being a ferocious shrieker, Bannon is the co-founder of Deathwish Inc., the hardcore institution that has released music from the likes of Sled alums Touché Amoré and Deafheaven. Balou, on the other hand, is one of the most respected producers in rock, lending his gargantuan guitar tones and blistering, spacious production to some of the best records of the last decade.
Still, the sum of Converge is more than its separate, legendary parts. On 2011's All We Love We Leave Behind, the band is a convincing weapon, brandishing sub-two-minute blasts of full, hardcore mastery. Koller anchors the band with anarchic fury, powering through dense drum compositions with awe-inspiring accuracy. In the same vein, Newton's chugging bass is a daunting wall of pure aggression.
Live, the band drops jaws much the same, offering communal catharsis that has been captured on two live albums over the band's two-decade career. While the recorded versions are captivating artifacts, Converge needs to be experienced in person to truly be believed.