MUSIC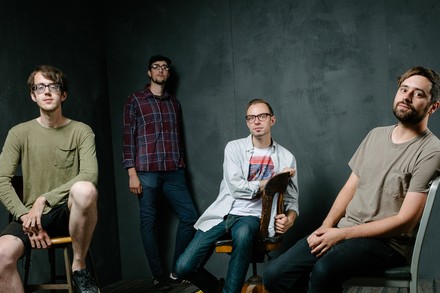 Cloud Nothings
(2017)
Cleveland, OH
Coming off a whirlwind multi-LP run that electrified fans and critics alike, noise rock phenoms Cloud Nothings are nothing short of indomitable. The band broke onto the indie scene with Attack on Memory in 2011, an unforgiving knockout of an album recorded by Steve Albini (Big Black, Shellac) that cemented their place among the greats of the genre. Originally a solo act started by multi-talented frontman Dylan Baldi, the group has now grown to a four-piece with the arrival of fellow lead guitarist Chris Brown, who joins bassist TJ Duke, and drummer Jayson Gerycz, in fleshing out the strength of the band's harmonic sound.
Their current incarnation marks a calculated change in structure for the band as they graduate from the more punk-infused abrasiveness of their earlier work, honing in on the strength of Baldi's lyrical skill. All the while, a vicious crescendo of cacophonous shouts and fiddling guitar-work maintain Cloud Nothings as dynamic a band as ever.
With influences ranging from hard rockers Thin Lizzy to pioneering punk group Wipers, and having previously worked with Wavves, John Congleton (The Paper Chase) and producer John Goodmanson (Bikini Kill, Sleater-Kinney, Death Cab for Cutie), the interlocking parts of the Cloud Nothings clockwork have resulted in an experience in which both diehard fans and first-time listeners can each unabashedly sing—or shout—along.
This not only marks Cloud Nothings first appearance at Sled Island, but their first-ever live show in Calgary, and there's no doubt they'll start it off with the surge of energy they do so well.