FILM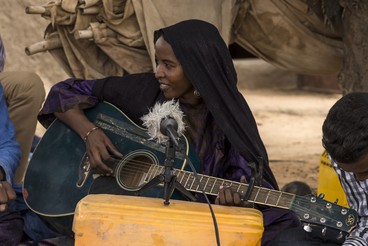 A Story of Sahel Sounds
Germany, 82 mins, 2016. Dir. Tobias Adam, Florian Kläger, Markus Milcke
Screening at 7:00pm on Thursday, June 22 at the Globe Cinema. Tickets available now.
A Story of Sahel Sounds is one of the most electric music documentaries we've seen in years. From his Portland, Oregon record label, Christopher Kirkley's Sahel Sounds project promotes the music of a wide range of artists from the Sahel region of Africa. The film, by neopan kollektiv, follows Kirkley as he travels across the Sahara to Niger, and even follows Sled Island 2016 performer Mdou Moctar and his band on their first European tour. He also meets with guitarist Fatou Seïdi Ghali of Les Filles de Illighadad (performing at Sled Island 2017).
Short:
Subnivean Snuff (Calgary, 13.5 mins, 2015. Dir. Rachel Evans.)
Presented with community partner Calgary Underground Film Festival.