MUSIC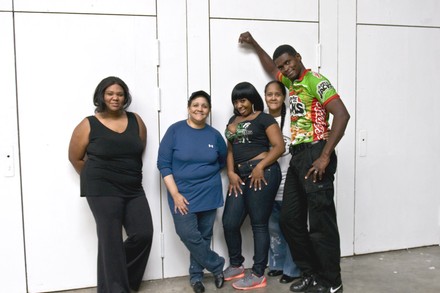 ESG
(2016)
Bronx, NY
Advance tickets for this show are now off sale. A limited number will be available at the door for $30. Get there early!
You know ESG even if you don't know you know ESG. Early track "UFO" is one of the most sampled songs in history, with credits in liner notes on releases by artists like 2Pac, The Notorious B.I.G., J. Dilla, Liars and at least 400 others.

Formed at the end of the '70s by three sisters and a few friends, ESG have gone on to release five albums in the decades since. The first of which, Come Away With ESG, was an irresistible debut of minimalist, funk-inspired post-punk. Pitchfork Media has called it one of the best albums of the '80s, and past Sled Island guest curator Kathleen Hanna cited it as a major influence on her band Le Tigre. It's easy to relay a long list of admirers of the band, given their perplexing ability to fit in at the Paradise Garage as easily as they did in the studio with Factory Records' Martin Hannett.

ESG grew up with James Brown in the household and Latin rhythms spilling into the windows from the street. This helped inspire them to make languid bass rideouts anchored by overlapping polyrhythms. It worked as well on the dancefloor as it did in the cheeky no wave scene of the time.

Over 30 years later, ESG are still an underlooked influencer of everything from punk and art rock to funk and hip-hop. Sled Island is proud to host them at their first Canadian show in eight years.