Visual Art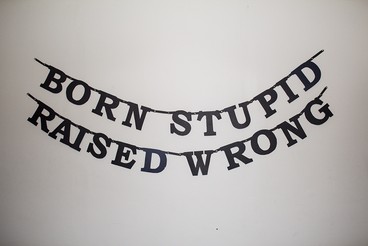 SCARLET LETTERS
SCARLET LETTERS is a series of text-based party banners by Calgary-based visual artists Natasha Jensen and Dana Buzzee. Sassy and nihilistic one-liners and site-specific provocations, these subtle and subversive interventions can be found installed throughout festival venues.
ABOUT THE ARTISTS:
Natasha Jensen is a young woman working from her 2nd story walk-up apartment in Calgary, Alberta. Her work is a tender and personal extension of herself and is inspired by obsession, the female experience, romance, fragility and eccentricity. Jensen has an interdisciplinary practice that takes form in drawing, sculpture, photography, installation and performance. A graduate of the Alberta College of Art + Design, she has exhibited in solo and group exhibitions throughout Calgary.

Dana Buzzee is a visual artist. Drawn to knitting, sewing and photography, and informed by notions of wilderness and survival, she creates installations that question constructs of gender, offering alternative narratives of femininity within her work. A graduate of the Alberta College of Art + Design, The New York Studio Residency Program and the Nova Scotia College of Art and Design, Buzzee has enjoyed a nomadic studio practice since completing her undergraduate education, with exhibitions and residencies in Canada, Finland, Iceland and the United States.