FILM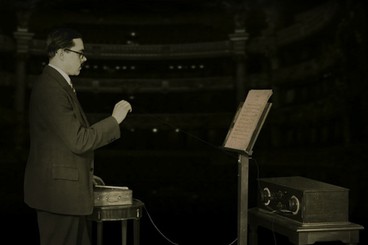 Wavemakers [Le Chant Des Ondes]
Dir. Caroline Martel, 97 mins, Canada, Colour/B&W, 2012, Blu-Ray
A feature-length documentary about the fascinating Ondes Martenot, its history and contemporary revival. Wavemakers tracks an ensemble of characters in their quest to re-invent and revive sophisticated early electronic music instrument that is anything but obsolete: the Ondes Martenot. Featuring reckless engineers, rock stars (such as Radiohead's Jonny Greenwood), repairmen and Martenot legend raconteurs.
Screening will be followed by a special rare demonstration of the Ondes Martenot!
Director's Bio: Award-winning filmmaker Caroline Martel's work has been presented to critical acclaim internationally, including at the Toronto International Film Festival and IDFA, on SRC, NHK, and SVT, at the Museum of Modern Art and the Georges Pompidou Centre, as well as at the Flaherty Seminar. Martel has been synthesizing documentary theory and practice for over a decade, with a special interest in archives, invisible histories, and audio/visual technologies and heritage.
---
PRESENTED IN COLLABORATION WITH