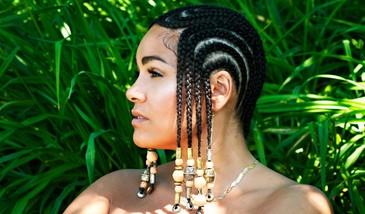 Just announced! Sled Island presents globally-distinguished singer, songwriter and producer Zaki Ibrahim at The HiFi Club on Saturday, September 22.
The two-time Polaris Music Prize nominee (2013 Shortlist and 2018 Longlist) is fast becoming one of Canada's hip-hop and soul icons. Alongside three EPs and two mixtapes, she has opened for Erykah Badu, Saul Williams and The Roots, and has collaborated or co-written with the Hyperdub family, Okzharp and Young Fathers.
Zaki Ibrahim's second full-length album, The Secret Life of Planets, was independently released earlier this year. Taking a five-month sabbatical in South Africa immediately afterward, she has now returned to Canada and is setting out on her first-ever world-headlining tour.
Tickets are $15 advance at HiFiClub.ca.
Permalink